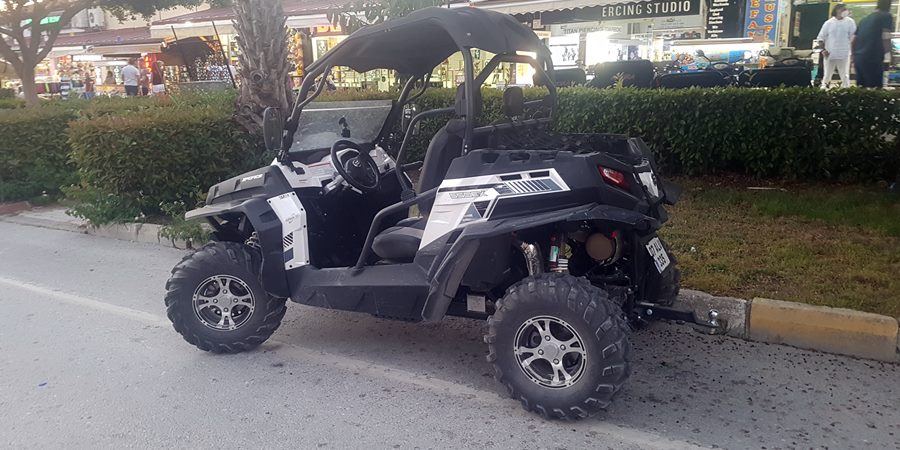 Off-road buggy cars are light weight automobiles suitable for off road driving. They have two seats for the driver and a passenger. They generally have open spaces on the sides.
You can now rent a buggy in Side and have lots of fun while exploring this lovely resort town in a buggy car. Our buggy cars have 1000 cc strong engines. They are all 2021 brand new automatic models. The vehicles are equipped with powerful sound systems and LED lightning. There is also a USB connection port and GPS device in the vehicles. What's more a camera is attached on the windshield. It will be on throughout the rental period. If you like, you can purchase the video recording of your travels after you deliver the vehicle. The buggies also have small trunks at rear to put your belongings while travelling. Seat belts for the driver and the passenger is standard in the vehicles.
Buggy rental in Side is 90 € a day. You make the reservation on our website and then we visit you at your hotel for the paper works. After you make the payment, we deliver your buggy car. As buggies are in cars category, you need to have a valid "B" driving license in order to drive a buggy. Driving an off-road buggy car is real fun and you can enjoy this amazing driving experience on the roads of Side in your holiday this summer.

Full Covered Insurance
Gps
Usb Connection
Powerful Sound System
Camera
24 Hours Assistance
Local Taxes
V.A.T %18
Do you need a driving license to drive a buggy car in Turkey?
You have to possess a valid driving license to drive a buggy in Side. Having a license class "B" is enough to drive a buggy car in Turkey.
How old do you need to be to drive a buggy car?
You must be 18 and over and have a valid "B" class driving license to rent and drive a buggy car in Side.
How much is the buggy rental in Side?
Buggy car rental price in Side is 90 Euros, 95 Dollars, or 85 Pounds a day.
If you have any questions related to buggy car rental, please feel free to contact us
Please fill in the online reservation form below