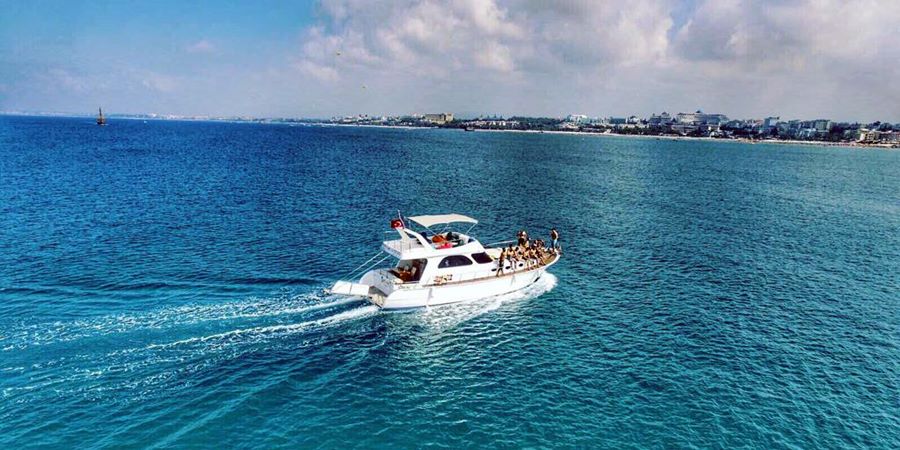 Quality is never an accident. It is always the result of intelligent effort. – John Ruskin
We look beyond the horizon and aspire to give everybody their ideal vacation. If you are looking for a day of modern luxury on your holiday, we'd recommend checking out our Side private motoryacht tour. As the leading travel agency in Side, we are here to make your dream holiday a reality and offer full customisation of all our tours. With our private motoryacht tour, you can fully mould your day out to fit the desires of your travel party. With our knowledge and friendly guides, we will provide you with the best day of your trip in Side.

Side Private Yacht Trip Price 45 € PP
Private, Only You and Your Beloved Ones
Covid-19 stress free
Open Buffet Lunch included
A Welcome Cake included
All Soft Drinks Free
A Bottle of Wine included
English Speaking Friendly Crew
Hotel Transfers included
Free Wifi
Full Travel Insurance
No Extra Payments or Hidden Charges
%100 Customer Satisfaction
Our Side Private Yacht Tour takes place on a modern and flashy motoryacht. This tour may also be scheduled for special events such as birthdays, anniversaries or public meetings. The motoryacht is the newest style and is equipped with luxury fittings on board and includes amenities such as modern bathrooms, sunbeds, seatings, a well-stocked lounge, snorkels and goggles. There is a lot of space on the yacht for your party to relax and sunbathe while enjoying the stunning coastal views.
Highlights of Private Yacht Trip in Side
The motoryacht accommodates up to 12 people, and the standard tour starts at 10 am and finishes at 4 pm. Hotel transfers, an open buffet lunch, all soft drinks, a bottle of wine, a welcome cake, insurances and all day service from the crew are included in our standard 6-hours yacht trip.
BBQ fish, chicken, meatballs, pasta, salad and fruit are served in the lunch. It is prepared freshly on boat from organic products. In addition, you can get from soft drinks as much as you want on the yacht. The staff will also serve a delicious cake and a bottle of wine to you along the trip.
A standard 6-hours long yacht trip starts by collecting you from your hotel and transfer to Side Harbour. The boat leaves the harbour at 10.00 and gives the first swimming break in open sea. Then, our skipper sails the boat to the spots where the bottle-nosed dolphins often appear. After the chase for dolphins, the boat docks at the end of the River Manavgat where the river flows into the sea. You will have an hour and thirty minutes break and have the chance of swimming in the cool river or warm sea waters here. At this time, the staff will serve the lunch on the boat. After lunch, there is a short river trip. Then, the boat sails to the sea again and we give an hour long swimming break in open sea or at the bay of Side. After this break, the yacht sails to the harbour and your private vehicle drops you back to your hotel.
You can recommend places where you want to spend more time throughout the cruise. The motoryacht is the latest design. It is clean, spacious, comfortable and there is sufficient number of cushions and sun beds on the deck.
The skipper and English speaking staff will always be ready for your requests and serve you worthy of Turkish hospitality along the trip.
The price of 45 Euros per individual is calculated according to 12 people attendance to a standard 6-hour trip.
We claim that Side Private Motoryacht Tour is the best private tour you can take in your vacation. On a stunning new boat, just you and your loved ones can appreciate Side's beauty throughout the day. Even the cost is shockingly low for this VIP yacht experience. Don't miss out this special sailing trip this summer!
Tailor Made Private Tours in Side
We plan different private tours that make your holiday in Side a fun and unforgettable one. We arrange and encourage Side Private Tours according to the needs of our guests and facilitate them throughout their tour.
The price of private tours in Side is determined based on numerous variables such as the number of people on the trip, entrance costs, food and beverage service, guiding service, lodging, protection and extra safety equipments. If you are planning a private tour, we will support you with the best experiences on your holiday in Side, particularly with our local tourism expertise as well as friendly and professional staff.
The capacity of our motoryacht is up to 12 people and a standard Side Private Yacht Trip is 6 hours from 10 am until 4 pm. However, the duration of your trip can be arranged for shorter or longer trips. We can easily create a four-hour tour if that is your preference. On the other hand, we can extend your yacht trip pleasure and arrange an 8-hour trip or longer. We can also change the starting and finishing time of the trip. For example, you want to have a sunset trip to see the wonderful evening sights of Side. So, we can arrange an evening yacht trip for you. Lunch can be excluded in your trip or you can tell us what you want to include in your lunch menu, so we can arrange your food accordingly. We can also include alcoholic drinks in your trip if you wish so. If you want, we can decorate the yacht with ornaments according to your taste and even arrange a fiddler for your romantic setting. All in all, you just inform us about your dream tour and we will create it for you.
Our private yacht trip is available almost every day of the year, so please don't hesitate to contact us if you have any questions or to discuss your needs. For us to prepare for your trip, we recommend booking at least two days in advance. We are excited to share our passion for Side with you, and we know your Side private motoryacht tour will be the best day of your holiday!
Please fill in the online reservation form below